Visiting Hours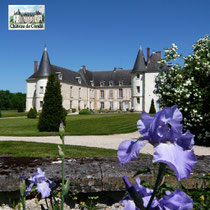 The Condé Estate : Castle and park are open every day except on Monday from Easter to all Saints Days, from 2:30pm to 5:30pm
A good tour of the Condé Collections and interiors take one hour, for the park if you experiment the Family Treasure hunting it will take you one more hour.
To have a great experience of your visit, we friendly recommend you to download one of our free MP3 Audioguide below with the Map of the tour.
Free mp3 Audioguide to download

How to Find us - Access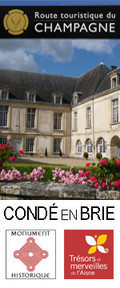 The Chateau de Condé is less than two hours away from Paris, on the Champagne Road 5 minutes from Champagne cellars, 40 from Disneyland Paris and 30 from Epernay and Rheims.
By Car : Highway A4
- From Paris : take Exit 20 toward Château-Thierry, then follow the direction Troyes/Epernay onto D1003 toward Crézancy turn right onto D4, The chateau de Condé is located in the center of Condé en Brie on the left before the bridge and the church.
- From Laon / Rheims : A26/E17 then A4/E50 take Exit 21 toward Dormans, folow Dormans village onto D980, D3 at the exit of Dormans village turn left D41 direction Condé en Brie continue onto D20 and D4, The chateau the Condé is located in the center of Condé en Brie village on the right after the bridge and the church.
By Minibus from Paris, Chateau-Thierry, Epernay or Rheims with Premium Guides and services :  ask Sébastien for a day in Champagne.